The most breathtaking moment in your life is perhaps when the love of your life gets down on their knees and proposes to you for marriage. There is something almost magical about the day of your engagement, and everyone wants it to be perfect. From the location of your engagement to the selection of the ring, you just want to put your heart and soul into planning this moment. We created this list of the best places to propose in Columbus Ohio to help you out.
If you are planning to propose to your significant other, you must have a lot on your mind, and we totally get it. Whether you want to prepare a grand proposal or wish to propose intimately on a romantic gateway, remember that your other half will be happy that you popped the question any which way.
For those gearing up to propose to the love of their lives, we have prepared a list of 10 places to propose in Columbus, Ohio. Please read on to check off at least one box from your "To Do" list.
Places to Propose in Columbus Ohio – #1 The Scioto Mile
If you are planning an intimate proposal, then the Scioto Mile can be an ideal location. Comprised of lush green parklands, pathways, and waterfronts, this site is all about serenity and love. You will find the Scioto Mile right at the center of downtown Columbus where you will discover greenways, special events, and a lot of fine dining establishments. If you choose to propose here, scenic views and the incredible downtown skyline will make your proposal truly mystic.
You can take your loved one on a romantic dinner at the Scioto Mile and later take a long walk along the river and pop the question. You can choose any time from dusk to dawn because this place's beauty and tranquility never fade.
Along with the lush green setting, various fountains and fun activities are on the walk. You can also make a tradition of returning to this place on your marriage or engagement anniversary. Choose a perfect time and a perfect location within the walk of the Scioto Mile, get down on your knees, and propose to your significant other while looking at the beautiful city sky.
Places to Propose in Columbus Ohio – #2 German Village
You don't have to make your proposal a one-night thing. There is no harm in turning your marriage proposal into a romantic gateway where you will create life-long memories with your partner. The whole point of planning an ideal proposal is to make it more fun, romantic, and memorable. Proposing over dinner or on a beach are still cute ways to pop the question, but planning a whole week away and then proposing to your partner will be a breathtaking experience.
For a fairytale-like week, you need a fairytale-like location. And we suggest booking the German Village guesthouse! This rustic, elegant guesthouse is south of downtown Columbus, right on Jaeger Street. With large rooms, expansive windows, and attractive nearby locations, you can set up an extravagant wedding proposal in no time.
You will find shops, cafes, and restaurants near the guesthouse, providing you with opportunities to explore. The area oozes romance and charm and will provide a perfect setting for you to get down on your knees.
Places to Propose in Columbus Ohio – #3 Short North
We have seen a lot of couples planning their engagement session at Short North, and there is a reason for it. The neighborhood is full of cultural activities, parks, bars, and cafes. Short North should be your first choice if you want an intimate proposal with an aesthetic photo shoot.
You can plan a romantic dinner date with your partner at one of the restaurants at Short North and explore the neighborhood together. Find the perfect setting for your proposal along the walk and pop the question to your loved one. It is a simple yet exquisite way to ask someone to be your life-long partner. Every couple is different, and going extravagant is not everybody's thing. So, go simple, but don't forget to get a professional photographer on board. Short North is known for its scenic atmosphere and photographic locations. If you are planning your engagement here, capturing your moment is a must!
Places to Propose in Columbus Ohio – #4 Franklin Park Conservatory
When you close your eyes and imagine yourself proposing to your lover amidst flowers, greenery, and sculptures, head to Franklin Park Conservatory and turn your imagination into reality. Perfect for weddings and engagements, this park is just full of romantic vibes and colorful backdrops. Franklin Park is a favorite location of many wedding and engagement photographers in Columbus, and you might ask why? Well, as soon as you enter the park, you will start noticing picture-perfect backdrops! Lush green areas are full of exotic flowers, sculptures, lakes, ponds, scenic bridges, and whatnot! There is no better place in Columbus, Ohio, where you can carry out your dream proposal.
You don't need expensive outfits and photographers to make your engagement extraordinary; the perfect setting is sometimes just enough. Franklin Park is always a great place to start, whether you are planning a surprise wedding proposal or just looking for a perfect setting for your post-engagement shoot.
Places to Propose in Columbus Ohio – #5 Genoa Park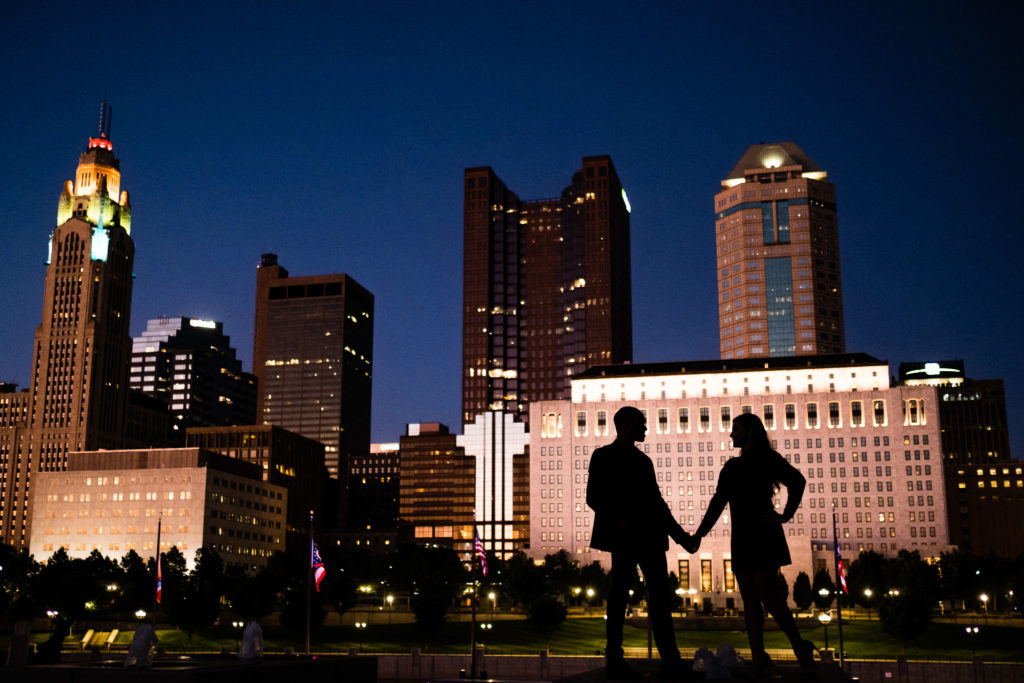 What makes a fantastic engagement location? In our opinion, if you are planning for a modest proposal, a lush green area with some architecture and fountains is enough to add a romantic touch to your proposal.
Genoa Park, touching the famous Scioto River, is a perfect location for your dream date. Let us explain why. The park is situated right on the western bank of the Scioto River and covers the stunning downtown skyline. If you live in Columbus, Ohio, the one thing to admire is the city skyline, and proposing to your lover in front of this amazing division is a sight to behold.
The park also features Riverfront Amphitheater, which hosts various events and concerts throughout the year. If you choose Genoa Park for your wedding proposal, you can always plan a day filled with fun activities and pop the question at the end.
Places to Propose in Columbus Ohio – #6 Goodale Park
Next on our list is Goodale Park. If you live near Columbus downtown, you must know how refreshing it can be to take a walk around Goodale Park. It is one of the oldest recreational parks in Columbus and has the heart of citizens for various reasons. Goodale Park is a place to do it if you wish to propose to your loved one while looking at the scenic Columbus skyline. This park is surrounded by charming, elegant houses and has an expansive playground, ideal for taking long walks after dinner.
If you are planning to pop the question at Goodale Park, remember that Scioto Mile is also just around the corner. You can schedule a romantic dinner date somewhere at Scioto Mile and later take your Significant other to Goodale Park for a long walk.
Many couples in Columbus, Ohio, choose Goodale Park for their proposal shoot. The serenity and the amazing view offered by the park are the two main reasons couples head to this scenic destination to arrange their wedding proposals. One more thing, Goodale Park also has a lovely colossal pond that can make a great backdrop to your engagement photos.
Places to Propose in Columbus Ohio – #7 Lindey's in German Village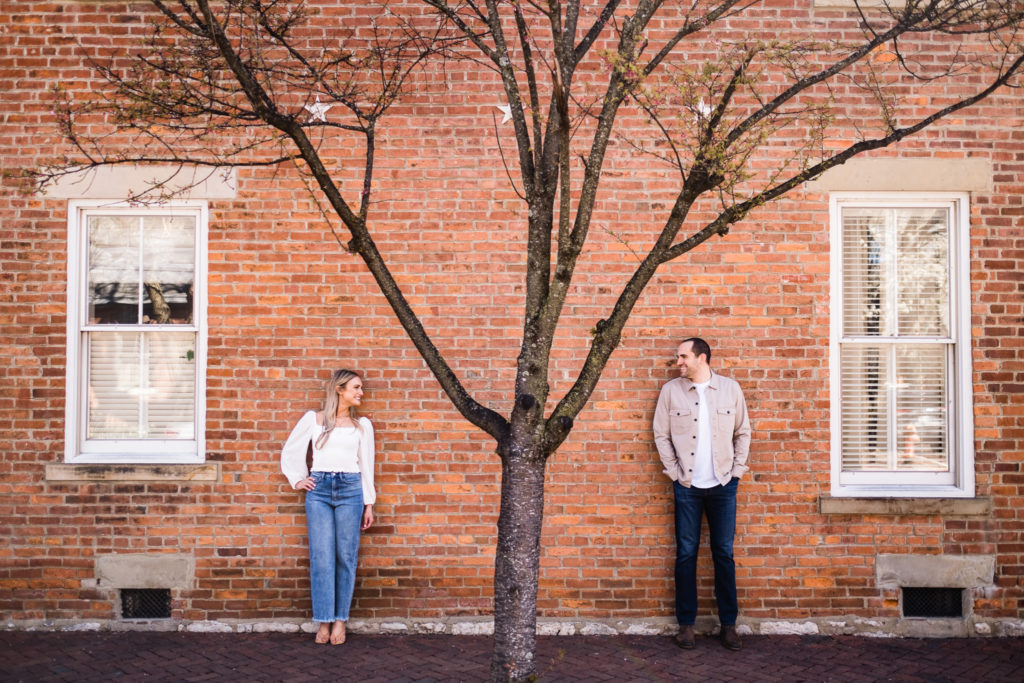 Lindey's is one of a kind dining establishment located in German Village. We discussed how you could book an entire guesthouse in German Village and plan a week away to make your marriage proposal memorable. But just as we mentioned, going extravagant is not always an option. Lindey's is a unique business establishment that gives this cobblestone community its life. If you are a picky eater who always seeks individualized service, Lindey's is a perfect place for you. The food, the ambiance, and the services—the clients appreciate everything about this eatery.
If you want personal touches to your proposal and plan to do it at the Lindey's, you must book your place ahead of time. Lindey's is a famous place, which is why you can often find it crowded. Make reservations in advance to avoid any mishaps.
If you are going to propose in summer, you can take advantage of the separate and isolated seating options. But for that, you need to make reservations far in advance, and even after that, patio seating is not always guaranteed. You can also take advantage of their private dining services to make your moment more intimate.
Places to Propose in Columbus Ohio – #8 Jeffery Mansion
Breathtaking views, exotic flowers, scenic fountains, and expansive ground—everything about Jeffery Mansion speaks elegance. "Love is in the air," you must have heard this phrase, but when you enter the vast horizon of Jeffery Mansion and see that cobblestone aisle, you feel love all around you. Jeffery Mansion is undoubtedly an ideal wedding venue, and they host various weddings each year. But you can also choose this scenic location to ask your lover to marry you, hoping that you two will marry at the same place one day.
Large trees, fragrant flowers, and cobblestone pathways cover every inch of the meadows, presenting you with the perfect opportunity to confess your love to someone.
Jeffery Mansion is picturesque in both spring and autumn. In spring, you will find overflowing beauty at the site, with giant trees, flowers, and fragrant air. And in autumn, you will be dazzled by the sunlight touching the red, fallen leaves.
If you want your loved one to remember this moment forever, head to the Jeffery Mansion with a photographer onboard and make your proposal special.
Places to Propose in Columbus Ohio – #9 Columbus Museum of Art
The Columbus Museum of Art has a lot to offer, from rich history to contemporary art. Many couples living in Columbus head to this museum to arrange their wedding receptions and breathtaking photo shoots.
If you and your lover appreciate quality art and historical pieces, Columbus Museum is the best place to pop the question. Anywhere you look, you will find minimalistic designs, contemporary drawings, and beautiful heritage artworks. The museum has an airy and elegant ambiance that will make an amazing backdrop to your life's most important moment.
If you are planning a big engagement party afterward, the Columbus Museum of Art offers artistic venues where you can plan your entire wedding journey. They offer customized event plans to suit each couple's needs. Columbus Museum of Art has a massive ground with various spots such as The Patricia M. Jurgensen Sculpture Garden, The Schottenstein Property Group & Atrium, and Derby Court. You can choose a location that suits you and plan an eventful proposal that will surely mesmerize your partner.
Places to Propose in Columbus Ohio – #10 Columbus Zoo
If parks and restaurants are not your thing, and you want to propose to your loved one at an entirely unique and different place, why not do it at a zoo? Yes, you read it right! The Columbus Zoo can be an ideal place to propose to your partner if you want to do things differently. The zoo offers various attractive proposal packages, where you can propose to your partner under millions of lights or pop the question through their amazing sea lions.
You can ask the zoo management to spell your request out in millions of beautiful lights. This can be a truly mesmerizing and unforgettable experience for you and your partner. Another popular way to propose at the Columbus Zoo is through sea lions. Their sea lions are trained to hold the "Marry Me?" sign for you during the sea lion interaction. This could be the simplest yet the cutest way to start your forever.
Recap of 10 Incredible Spots to Propose in Columbus Ohio
Are you planning for a perfect Columbus proposal? Don't fret! If you love your partner and they love you back, where and how you pop the question doesn't make any difference. But still, one always wants this moment to be special and memorable. Hopefully, the above-mentioned places in Columbus, Ohio, will help you decide where to say it and how to say it. We wish you blissful life ahead!
Click here to start the process for your engagement session!