We are aware of how chaotic and exciting planning a wedding can be. Every bride wants her special day to be flawless, complete with the perfect flower arrangement, delicious menu, and, most importantly, PERFECT DRESS! In order to clear up this confusion, we've ranked the top 5 bridal shops in Columbus Ohio without any particular order! so, Let's begin with the wedding dress hunt!
Let's jump right in! Here are my favorite bridal shops in Columbus Ohio.
1. Gilded Social 
Brides-to-be who choose Gilded Social's services may relax knowing that this boutique bride salon will take excellent care of all of their wedding dress needs. You're just getting started with your Gilded Social experience when you go clothing shopping with them. They style brides and all guests for elegant occasions as a designer consignment and special-order wedding dress business. Gilded Social is available by appointment only, so brides must make a date before going to the store. The gowns at Gilded Social come in a wide range of prices and styles, and there are also accessories like veils, jewelry, and hair accessories for sale. A completely personalized service is provided for your wedding day by Wedding Day Dressing & Detailing Service.
On the most important day of your life, they act as your personal helper. Brides wishing to save a little money and restrict their budget when it comes to this area of wedding planning can choose from a sample sale and consignment collection in addition to the designer selection at Gilded Social. The best part is that they have years of experience making sure your outfit and pictures look stunning! You gotta stop at one of their two Columbus locations! Tayna, the owner is the BEST! Her and the team will take the absolute best care of you and your dress needs!
Details:
Phone Number: 614-430-9659
Addresses:
Location #1: 127 East Elm Street, Granville, Ohio 43023
Location #2: 65 E Gay St 2nd floor, Columbus, OH 43215
Website: shopgildedsocial.com
2. La Jeune Mariee Bridal Collection
La Jeune Mariee looks for gown designers offering well-made and attractive bridal apparel without fabric detail, design, and style all over the world. It is an abundant, welcoming bridal gown destination that extends warmth and a sense of connection to each bride who enters its doors. You will get an elegant atmosphere at La Jeune Mariee Bridal Collection, a full-service bridal shop that sells luxury wedding dresses. Brides must make an appointment to meet with a skilled wedding stylist who will assist them in selecting a dress, veil, and other accessories. Their bridal gowns range in price from $1,000 to more than $15,000.
The bride must take this schedule into consideration when planning to buy a dress well in advance of the impending wedding date because dresses might take up to eight months to arrive. You can trust them with your dream gown because of their talented and committed stylists' ability to design every style, their desire to genuinely listen to each bride, and their help in helping to put together a look that will make everyone distinctive on a special day. This is hands down one of the best bridal shops in Columbus Ohio!
Details:
Phone: 614-228-2700
Address: 139 E MAIN ST COLUMBUS, OH 43215
Website: Lajeunemariee.com
3. B Loved Bridal Boutique
B. Loved Bridal Boutique assists brides with finding their wedding-day attire. Their wedding dresses normally cost between $1,500 and $5,000. Brides can browse designers online but must schedule an appointment in order to visit the store, where staff members personally assist customers in finding the one dress that is ideal for their special day and their wallet. They don't carry mother or bridesmaid dresses because they exclusively specialize in bridal gowns.
One of the owners of B. Loved interned for Jean Paul Gautier, MTV, and Henri Bendel in New York City. The date should be checked by a salesperson from this bridal salon before visiting the store in person, as B Loved Bridal Boutique is only open by appointment, much like the other bridal boutiques previously mentioned. You will most certainly love their selection because they are dedicated to assisting you in finding the ideal dress at the ideal price.
Details:
Phone: 614-395-4437
Address: 36 W Gay St. Columbus, OH 43215
Website: blovedbridal.com
4. Off White
Dublin, Ohio-based Off-White Bridal Boutique sells amazing bridal dresses. Dresses for special occasions for your flower girls, moms, and bridesmaids all are available here. The group specializes in ready-to-wear dresses that come directly from sample sales. Off White only accepts appointments, allowing you to take it easy while looking for your wedding dress. At Off White Bridal Boutique, couples can experience a high-end shopping journey from beginning to end.
The knowledgeable personnel at the store can assist future newlyweds and their wedding parties in choosing gorgeous outfits. The staff is also available to assist the wedding party with finalizing their appearances. When you stepped inside the business, you will be greeted by the friendly faces of their staff because of their excellent customer service. Their striking gowns are designed to wow with their opulent fabrics and elaborate detailing. Off White offers you top-notch designer dresses off the rack at incredible sample sale pricing!
Details:
Phone: 614-726-9445
Address: 15 North High Street Dublin, OH 43017
Website: offwhiteofdublin.com
5. White of Dublin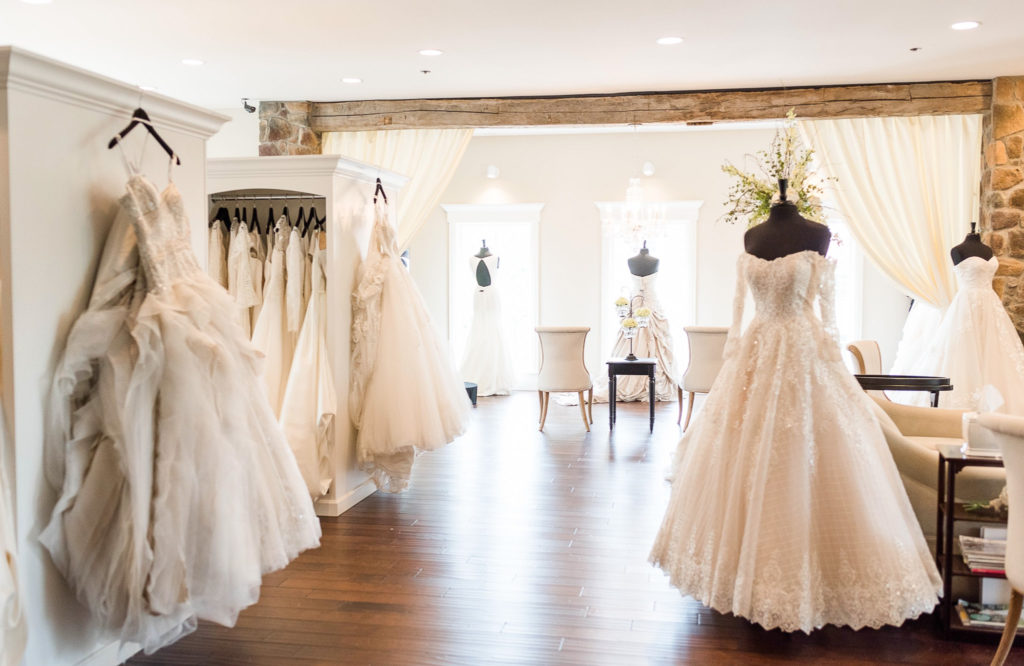 White of Dublin is a high-end wedding shop that serves central Ohio and the larger Columbus area. It is located in the picturesque town of Dublin, Ohio. This renowned boutique is thrilled to provide gorgeous attire for the complete bridal party in addition to hundreds of beautiful wedding gowns and embellishments. Your ideal designer wedding dress can be found at White of Dublin, along with all of the outfits worn by the bride's friends and family. They passionately believe in combining top-notch customer service with an expertly chosen selection of wedding dresses and accessories to accommodate all price ranges. This is why White of Dublin is one of the best bridal shops in Columbus Ohio.
They also sell jewelry, lingerie, veils etc. A personal session to discuss style, color and budget is conducted at the start of the project. Along with helping you find the ideal dress; the shop is also happy to help with the attire for your wedding after-party. Personal consultations, private "try-on" sessions for the wedding party, custom designs, and ongoing support throughout the process are also available.
Details:
Phone: 614-791-2600
Address: 23 North High St Dublin OH 43017
Website: whitebridalboutiques.com
Recap of the best Bridal Shops in Columbus Ohio.
As stated above, Columbus is lucky to have so many amazing bridal shops! Personally, I have photographed gowns from all of these shops.
Looking for other amazing vendors for your Columbus Ohio Wedding?
Check out this Blog Post: PLANNING YOUR DREAM COLUMBUS OHIO WEDDING (UPDATED FOR 2022)
Looking for a Columbus Ohio wedding photographer to capture that perfect wedding dress?
Check out Storyteller Adams HERE